3 Steps to Fix a Failed iCloud Backup on Your iPhone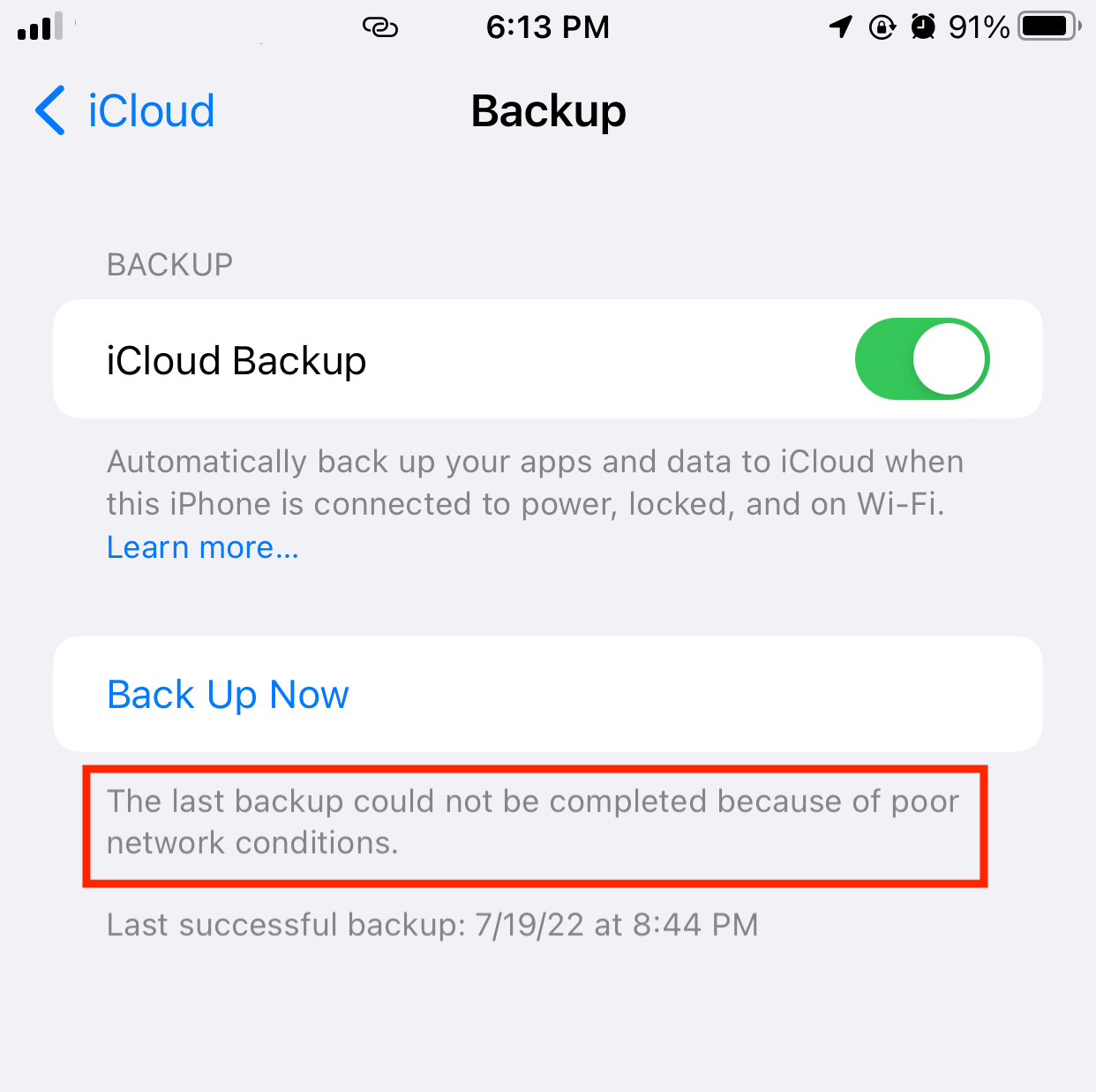 Synopsis
Several weeks ago, I noticed that backups from my iPhone had stopped syncing to iCloud. While trying to fix the issue, I encountered the following error messages on the iCloud Backup screen:
The last backup could not be completed because of poor network conditions.
Some files were unavailable during the last backup.
My situation was a bit unique because I use a second iPhone as a WiFi hotspot, so it took me some time to resolve the issue.
Background
This is a story about two iPhones: the first is running iOS 15.5 and the second is running iOS 12.5.5. The second iPhone is stuck on an old iOS version due to the device being a fairly old but still functional iPhone 6, which I bought new back in 2015.
In spite of several years of constant use, the second iPhone has refused to die, so I decided to use it as a Personal Hotspot—to provide (nearly) unmetered Internet access to the first iPhone over WiFi.
And for over 7 months, it was quite reliable as a WiFi hotspot before I noticed in late June that iCloud Backups had started failing on the first iPhone. It had stopped syncing my backups to iCloud for about two weeks.
My Theory as to the Culprit
The second iPhone no longer receives updates—it has been stuck on iOS 12.5.5 since September 2021 (and started duty as a WiFi hotspot in early December 2021), which rules it out as the culprit.
My suspicions turned to the first iPhone because I remember updating it to iOS 15.5 in early June, around the time of WWDC 2022 (6 Jun – 10 Jun 2022). The iCloud Backup screen showed June 10 as the last backup date, which lines up nicely with my recollection of when I updated iOS.
Fixing the iCloud Backup Error
I scanned the security content as well as the release notes for iOS 15.5 to see if there were any changes to the Personal Hotspot feature or something less visible like an update to the networking stack, but I didn't find anything to latch on, so I knew I had to copy-paste the iCloud Backup error message into Google Search to make any progress.
Step 1
The first error I was shown was: "The last backup could not be completed because of poor network conditions", so I switched to a WiFi connection and restarted the backup process. This worked because I was shown a different error after the restarted backup failed.
So, step 1 is to change from Personal Hotspot to a 'proper' WiFi connection.
Steps 2 & 3
The new error read: "Some files were unavailable during the last backup" and after skimming several articles, I tried out the following suggestions:
So, I did everything from rebooting the iPhone (multiple times), close several apps (almost 2 dozen of them), to attempting to sign-out and sign-back-in with my Apple ID. iOS showed a scary warning about deleting files stored on the device if I were to proceed with signing out so I aborted this suggestion.
I tried again, and after about an hour or so, the backup completed successfully 💯!
No Official Fix Yet
Today, I put the second iPhone in Personal Hotspot mode so I could use it to access the Internet on the first iPhone. I attempted an iCloud Backup and I received the same error as I got the first time: "The last backup could not be completed because of poor network conditions", which makes the error reproducible.
I have updated to iOS 15.6 which was released yesterday (July 20) and the error remains.
Epilogue: the Root Cause‌
iCloud Backups via another iPhone in Personal Hotspot mode used to work fine prior to iOS 15.5. It seems that Apple may have introduced a silent, or more correctly, undocumented, change in May 2022 when iOS 15.5 was released.
An iPhone running iOS 15.5 now treats a WiFi connection from another iPhone in Personal Hotspot mode differently from a regular WiFi connection, which explains why my iCloud Backups started failing after I updated from iOS 15.4 to 15.5.
I'm fairly certain because the first step in the instructions above, where I switched from using the second iPhone in Personal Hotspot mode to a "proper" WiFi connection, was really just me popping out the LTE SIM from the iPhone and plopping it into another phone also in hotspot mode, but running a different OS (Android instead of iOS).